.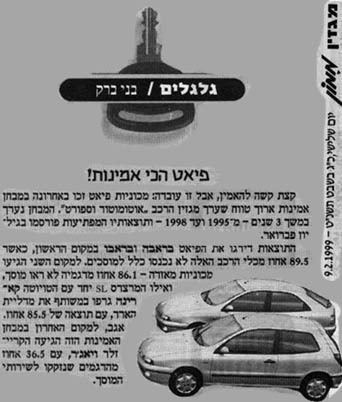 9.2.1999 "Yediot Acharonot", "Mammon" Magazine , Israel
Galgalim / Beni Barak
Fiat Most Reliable!
A little hard to believe, but it's a fact: Fiat cars has recently won a long term reliability test done by "Automotor and Sport" magazine. (Auto Motor Und Sport)
The test was conducted for 3 years - from 1995 untill 1998 - and it's surprising resaults were published in the February issue.
The resaults rated the Fiat Bravo and Fiat Brava in First place, with 89.5% of this model not entering the garage for repairs.
In second place came the Mazda cars - 86.1% of it's models didn't enter the garage.
And the Mercedes SL together with the Toyota Carina took the bronze medal with a score of 85.5%.
By the way, the last place in the reliability test was taken by the Crysler Voyager with 36.5% of the models needing repairs.
---
Help needed: the original magazine's language is German, and since I can't read German, I'd appriciate it very much if one of you Fiat Bravo fans in Germany that might have this articale at hand to send it over with a translation or to refer me to a web page with this articale in it.